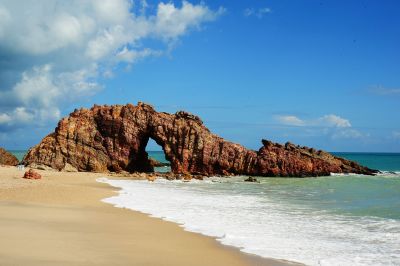 Jericoacoara
10 km far from Preabeachvillas on the beach , the famous village of Jericoacoara .
Jericoacoara is one of the 10 most beautiful beaches in the world . Located about 300 km far from Fortaleza in the state of Ceara , Jericoacoara was , twenty years ago, a simple fishing village . Today, " Jeri " became the second name of Heaven for all Brazilians who love the place to rest , do sport , shopping or partying.
For only 20 years , " Jeri " has been having electricity, & some details haven't changed in the village : the streets are « sandy streets» & all converge to the same point : the big dune , facing the ocean. In an unchanging ritual , locals and tourists meet there for the magical sunset .
Sports side, with unsual wind statistics , Jericoacoara is a leading destination for windsurfers .
And Jericoacoara, with its sandy streets and its beautiful beach, has become a tourist destination with the development of hotel accommodation and multiple restaurants.